"I've been through everything. I always said I was like those round-bottomed circus dolls – you know, those dolls you could push down and they'd come back up? I've always been like that. I've always said, "No matter what happens, if I get pushed down, I'm going to come right back up."
---
Doris Day was born Doris Mary Ann Kappelhoff on April 3, 1922 to Frederick Wilhelm (William) and Alma Kappelhoff in Cincinnati, Ohio. (Until the Associated Press found her birth certificate in 2017, Day said that she believed that she was born in '24.)
She had two older brothers, although one of them passed away before she was born. Her brother Paul was several years older and sadly passed away in 1957 at the age of 37.
---
Below is a photo of Doris and Paul as children and photo of Doris as a little girl: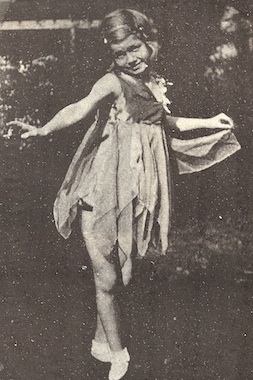 ---
As a teenager, Doris became increasingly interested in dancing – not singing, as most
would probably assume – and prepared to do her best to make a career out of it. She and a boy named Jerry Doherty became dance partners and they performed all over the city. They even won $500 in an amateur dance contest. After that, Doris's mother took Jerry and her to Hollywood to seek out a future in dancing for them.
But a horrible car accident in 1937 halted their plans; Doris was in a car with friends when they were struck by a train. Doris suffered a double compound fracture in her right leg and was forced to recover in bed for months. She was lucky to regain her ability to walk, but she would sadly never get to pursue a career in dancing.
However, Doris's recuperation would reveal another of her great (and then-unknown) talents: singing.
From her own words, courtesy of her 1975 autobiography: "During this long, boring period, I used to while away a lot of time listening to the radio, sometimes singing along with the likes of Benny Goodman, Duke Ellington, Tommy Dorsey, and Glenn Miller […]. But the one radio voice I listened to above others belonged to Ella Fitzgerald. There was a quality to her voice that fascinated me, and I'd sing along with her, trying to catch the subtle ways she shaded her voice, the casual yet clean way she sang the words."
After Doris's mother heard her singing, she found a teacher to give Doris voice lessons. Her teacher began giving her three lessons for the price of one because of how much potential she saw in her.
As she continued taking lessons, Doris began finding gigs and then auditioned for orchestra leader Barney Rapp, got the job, adopted the stage name "Doris Day", and went on to also work with other big band leaders Bob Crosby, Jimmy James, and Les Brown.
---
---
Doris's career soared when she joined Les Brown's orchestra. She scored her first hit song with "Sentimental Journey", which was released in 1945. It would become one of the most popular songs of the World World II era. It was released around the end of the war, so it became a kind of homecoming anthem for returning veterans.
---
While singing with the orchestra in '45 and '46, Doris sang six other songs that would become Top 10 hits. She catapulted to stardom and became one of the most popular vocalists of the 1950s.
---
---
Songwriter/lyricst partners Jule Styne and Sammy Cahn, who wrote many memorable
songs on Broadway and in Hollywood, discovered Doris Day at a party held at Styne's house. According to her, she was asked to perform at one point and she reluctantly sang "Embraceable You" for everyone. Her manager, Al Levy had persuaded her to attend the party, and, by the end of the night, he and Styne and Cahn asked Doris to audition for the lead role in a new musical film that Styne and Cahn had written the score to called Romance on the High Seas. They had written it for Judy Garland, but the deal with her fell through. Then, Betty Hutton had been chosen to replace her, but she became pregnant and was unable to film.
Styne and Cahn asked Doris to come to Warner Brothers the next day and audition for the film's director, Michael Curtiz.
Reluctantly, Doris, who had never acted, was skeptical but took them up on their offer. She nervously auditioned for Curtiz, admitted that she wasn't an actress, but got the job. Curtiz admired her for her honesty and All-American looks. It's said that Doris Day was the proudest discovery in his illustrious career.
---
---
Doris Day's movie career started in 1948 with Romance on the High Seas.. She had been singing with Les Brown's orchestra for awhile, had been on Bob Hope's weekly radio show for about two years, and began touring the USA as a rising star. She continued to sing songs that audiences adored, but now she was ready to take on the silver screen.
---
"It's Magic" was nominated for the Best Song Oscar in 1949.
---
Of course, that's only the beginning of Doris Day's story.
If you want to learn more about her life, I highly recommend reading her aforementioned autobiography Her Own Story, which you can purchase online for a cheap price or possibly find at a book sale. I was lucky to find a copy at a local book sale for, like, 50 cents!) 
---
With all of that said, I want to end this by recommending

several Doris Day films that I enjoy

:
---
1) On Moonlight Bay (1951)
I actually wrote a blog post about my love for this film last spring for Doris's birthday. Please take a moment and click here to read it if you're interested!
---
---
2) Pillow Talk (1959)
Doris Day and Rock Hudson's first movie is full of an outrageous level of fun and they're honestly two of the cutest people I've ever seen onscreen.
---
According to Day, she and Rock Hudson were the best of friends offscreen. Several years ago, she did a tribute to Hudson on TCM. In the clip below, Day shares her memories of working with Rock Hudson and remembers him with such adoration. It always makes me emotional.
---
3) Calamity Jane (1953)
Doris Day meets the Wild West in this story, which is loosely based on the real Calamity Jane. Doris gets a lot of great musical numbers, which is mostly why I enjoy this movie so much. Well, I also enjoy the romantic tension between her character and Howard Keel's (although her unabashed admiration for a young woman who poses as a famous singer gives that romantic pairing a run for its money).
---
---
---
Doris Day made movies until 1968. That same year, she made the transition to television
with The Doris Day Show, which ran until 1973. According to her autobiography, Day said that her husband, Marty Melcher, had actually signed her on to the series without her knowledge, which she found out when Melcher died from heart disease in April 1968.
In 1978, Doris Day began The Doris Day Animal Foundation, which is still active.
Click here to visit the official Doris Day Animal Foundation website to learn more about her charity.
---
♡ Happy 97th birthday, Doris Day! ♡