I've got a beautiful feeling everything's going my way…
Oklahoma!, a musical written by Richard Rodgers and Oscar Hammerstein II, opened on Broadway in 1943. It was based on the 1931 play Green Grow the Lilacs, written by Lynn Riggs. The Broadway production was a box office hit, running for over 2,000 performances, an astounding feat. It lived on in national tours and won awards.
Twelve years after it opened on Broadway, Oklahoma! found itself on the big screen. The film adaptation was directed by Fred Zinnemann and it starred Gordon MacRae as Curly and Shirley Jones as Laurey.
---
---
The Story
Oklahoma! takes place in turn-of-the-century Oklahoma territory. The main characters, Curly (MacRae) and Laurey (Jones), are clearly in love with each other but don't dare admit it. They constantly bicker with each other and Laurie goes out of her way to make Curly jealous.
Laurey's loving and sassy Aunt Eller (Charlotte Greenwood) knows better and encourages Curly to go after Laurey.
While this is going on, Will Parker (another local cowboy), returns home from Kansas City to continue wooing his girlfriend, Ado Annie (Gloria Grahame). Unbeknownst to Will, Ado Annie has fallen in love with a traveling peddler named Ali Hakim (Eddie Albert). She ends up feeling torn between Will and Ali. It's a silly subplot, but I enjoy it. I especially enjoy Eddie Albert's performance.
Jud Fry (Rod Steiger), Aunt Eller and Laurey's intense field hand, also has his eye on Laurey. She, however, does not have her eye on him.
Tensions rise between Jud and Curly, as Jud will not stop going after Laurey.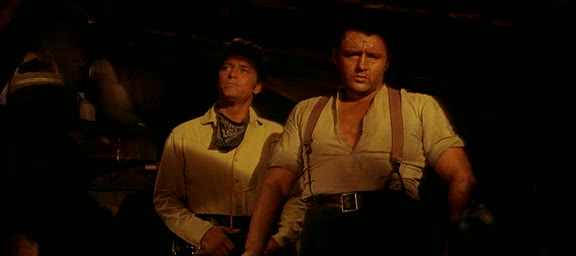 Besides the Jud part, the film is otherwise lighthearted and humorous. Laurey and Curly often play games with each other by sometimes flirting, sometimes fighting, and sometimes making each other jealous. It's just fun fluff.
---
---
It was the first feature film to be shot in the Todd-AO 70mm widescreen process and was then filmed in the standard CinemaScope 35mm process so that both formats could be released in theaters.
---
---
The Highlights
There are a lot of songs in Oklahoma!. It's tough to choose my favorites because I genuinely enjoy most of them, but below are what I'd consider my absolute favorite.
---
"Oh, What a Beautiful Mornin'"
Oklahoma! opens with the song sung by Gordon MacRae. Note the gorgeous scenery; the opening scene was shot in Amado, Arizona. (Many of the other scenes are shot in various parts of Arizona, not Oklahoma.)
---
"The Surrey With the Fringe on Top"
This is one of those go-to songs for me when I want a little boost of joy.
---
"Many a New Day"
Laurey's girl power anthem: Don't cry after a guy who leaves you. The scene is touching because, while the lyrics are uplifting and empowering, Laurey is still clearly hurt over Curly flirting with another girl.
---
"People Will Say We're in Love"
The culmination of Curly and Laurey's romantic tension is pretty much channeled through this song.
---
Curly's Proposal to Laurey/"People Will Say We're in Love" Reprise
I know I've talked about this scene at least once before on this blog. I just think it's one of the most romantic scenes I've ever watched.
---
"Oklahoma!"
The titular musical number comes near the end of the film during Curly and Laurey's wedding.
---
Oklahoma! was one of the old musicals I used to watch all the time when I was a little kid. It'll always hold a special place in my heart. Ever since childhood, Rodgers and Hammerstein musicals are, like, one of the most comforting things to me.
Thank you for reading!
This post is part of the Broadway Bound Blogathon, hosted by Taking Up Room.
---